Foundations of Thai Massage
Thai Massage is an effective and efficient form of bodywork, utilizing a series of stretches and compressions along the Sen, or energetic, lines of the body.  This class will be rooted in the teachings of Nuad Bo-Rarn, the Northern style Ancient Massage of Thailand, and will be a comprehensive introduction to the basics.  The combination of 3-dimensional movement and passive stretching offered in Thai Massage permit a sense of growth and trust for the recipient's body and mind. It is an artistic and reciprocal experience, beneficial to both giver and receiver. Upon completion of the course, practicioners will be able to offer a full 60 or 90-minute Thai Massage session and will be able to participate in future Thai Variations/follow-up courses.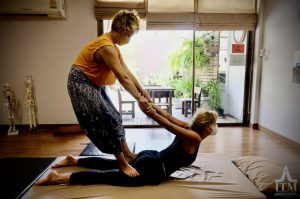 Dates: September 8-9-10
Time: 9-5
(includes 1 hour lunch break and some 15-20 min short breaks)
Cost of class: $500
CEU: 21
Participants should wear loose, comfortable, and moveable clothing.  Class will include gentle yoga and light movement in addition to lecture, demonstration, and giving/receiving practice bodywork.
Use this link to reserve your space
https://bookwhen.com/bodyworkguild/e/ev-svrb-20220908210000