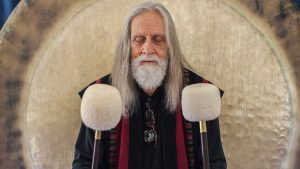 We are pleased to announce legendary Gongmaster Don Conreaux has agreed to conduct a class through the Bodywork Guild.
At 88 years old Don has traveled the word dozens of times over for more than 60 years teaching about sound and vibration. Don is the author of several books about sound and vibrational healing and is considered the worlds expert in the subject.
Class will be set up with lecture and discussion followed by labs working with and using sound creation tools like gongs, bowls, bells, tuning forks, shruti boxes, and conchs.
Assisted by Nick Pavoldi, LMT A.SiP and co-founder of the Gong Lab. Nick is an Advanced Structural Integration Practitioner and NYS licensed massage therapist since 1996 and founder of the Bodywork Guild